Who We Are
Dr. Jean M. Kummerow is a psychologist, consultant, author and trainer. She integrates psychological principles with practical approaches and listens carefully to your needs in designing programs that work for you.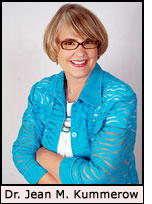 She is a recognized international expert on the Myers-Briggs Type Indicator® instrument, training professionals throughout the world on its use. She designs, develops and facilitates "Train the Trainer" courses on the Myers-Briggs Type Indicator® (MBTI®) Step I and Step II assessments and their applications. Her sessions are practical, clear and fun.
Dr. Kummerow is an award-winning author who has written on topics such as personality type, leadership development, team building, communication styles, career development, and adult life-stages. See our Publications page.
She has worked in the human resource arena for over 35 years and specializes in leadership/management development and coaching, team building, and career counseling.
Her clients have included a variety of organizations:
For-profit (McKinsey & Co., Target Corporation, Southwest Airlines, AIG Insurance, General Electric, Orrick, Herrington & Sutcliffe Law Firm, Embroidery Library, etc.)
Non-profit (Twin Cities Public Television, Center for Creative Leadership, Minnesota Orchestra, Shattuck-St. Mary's School, Fairbanks Memorial Hospital, Minneapolis Community and Technical College, Iowa State University, Jones Family Foundation, etc.)
Government (US Marshals, FBI Academy, Minnesota Department of Human Services, Stevens County Public Health, etc.)
Dr. Kummerow is on contract as a leadership coach, trainer, and coordinator of leadership coaches to the Blandin Foundation's Community Leadership Program, a program developing leaders from Minnesota's rural communities.
Before beginning her own firm in 1990, she worked as a consulting psychologist with a management consulting firm, and as a counselor, instructor and researcher at the University of Minnesota. Her doctorate is in Counseling and Student Personnel Psychology from that same institution. Her BA is from Grinnell College in Iowa. She is a licensed psychologist in the State of Minnesota. She appeared on the Oprah Winfrey show as an expert on psychological testing and was featured in a short television spot on the Smart Women series. She is listed in Who's Who in American Women.
Dr. Kummerow hires other professionals as needed or makes referrals to well-qualified individuals.